Project Description
Telephone Road Reconstruction – T0813
Project Limits: IH610 to Reveille St.
Project will consist of complete roadway reconstruction, including drainage, utilities, traffic signals, pedestrian improvements, and streetscape amenities
Project is currently in the first phase of preliminary engineering.
The TIRZ will be seeking federal funding support for the project in mid 2022
TIRZ joins Telephone Road funding celebration
TIRZ 8 Chairman Sonny Garza, left, joined U.S. Rep. Sylvia Garcia and Mayor Sylvester Turner, right, at an Aug. 10, 2022 event celebrating a $21 million federal grant for the City of Houston's redevelopment of Telephone Road at Lawndale Drive south to Loop 610 South.
TIRZ 8's Telephone Road Reconstruction Project stretches from Loop 610 South to Reveille Street as part of a coordinated effort between the TIRZ and the city.
The purpose of the TIRZ project includes improving mobility, access management, and safety for the adjacent community as well as for the greater Houston region.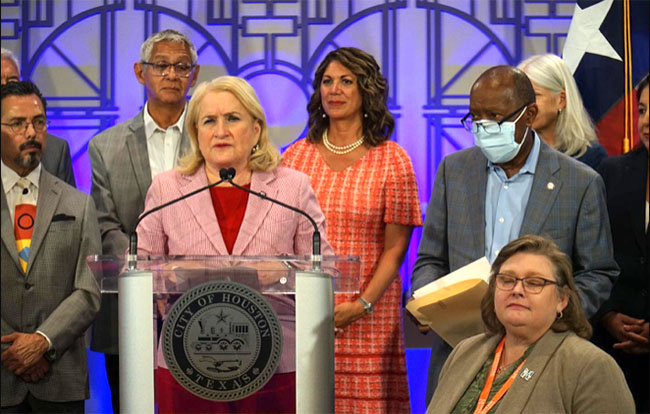 Gulfgate Redevelopment Authority – Telephone Road Project StoryMap
This StoryMap provides information in a visual format and includes pictures and maps depicting existing conditions in the study area. It includes data collected through a variety of sources as well as images documented during site visits. If you have any questions or comments on the information presented, we invite you to submit them here.
Viewing Tips:
Please allow a few seconds for maps and images to appear.
Position maps in frame prior to scrolling through StoryMap.